Written July 15, 2007
Theirs was a story of unmatched musical passion and productivity. Their collaboration produced a string of hits that remains radio staples four decades hence — She Loves You, Let It Be, Hey Jude, We Can Work It Out, A Day In The Life, Penny Lane, All You Need Is Love, Strawberry Fields, I Want To Hold Your Hand, Don't Let Me Down, Yesterday, In My Life — and the list goes endless. Their cultural, or even political, impact worldwide was immense. They are John Lennon and Paul McCartney, and they met 50 years ago this week.
Thanks to Jim O'Donnell, who in the late '80s embarked on an eight-year research to reconstruct that fortunate day now immortalized in his book The Day John Met Paul, the facts of that meeting are now accessible to us.
It was July 6, 1957, a Saturday. John and Paul met in an equivalent of a town fiesta.  Preparations for the St. Peter's Church Garden Fête, an event managed by the local church whose purpose was "to bring the community together while helping St. Peter's financially," started as early as March that year with students beginning their rehearsals and their parents readying their children's costumes.
A line-up of activities preoccupied the Woolton community. At 2 p.m., a procession through Woolton Village commenced. Occupying the last lorry in the parade, to many people's surprise, was a skiffle group called the Quarry Men set to play out for the crowd later that afternoon. This was a milestone in the career of the group, which was used until then to play in dances and parties with small and confined crowds.  A month earlier, the same group failed in its bid to audition with the TV Star Search.  But this didn't slow the members down. This day, they were having the best time of their career being paraded and exposed to the public they longed to conquer.
The line-up was basically unfamiliar to many of us —  Eric Griffiths on guitar, Colin Hanton on drums, Rod Davis on banjo, Len Garry on tea chest bass… except for the last member — John Lennon.  An occasional replacement for the tea chest bass was a friend of John's, Ivan Vaughan. Right at that time, it did not occur to Ivan he would play a great part in the history of rock and roll music. That afternoon, he invited his friend, Paul McCartney, to see the Quarry Men perform and hang around with them backstage afterwards.
By 3 p.m., the parade was over and the Rose Queen's coronation followed. The Quarry Men in the meantime were gearing for their first act that afternoon. They were booked for a number of sets.  The first was at 4:15 p.m., another was at 5:45 p.m., and an early evening gig was slated from 8 p.m. At exactly 4:17 p.m., the band was announced and it blasted through its first set that included in its repertoire Cumberland Gap, Maggie May and Be-Bop-a-Lula.
O'Donnell studies the terrain: "There is applause between songs and it encourages the ensemble. Lennon hears the applause and forges a smile and curls up at the ends like little whiskers. Most teenagers enjoy the band. Many adults and children don't care." Fortunately, a 27-second recording of John singing Putting on the Style that historic afternoon is yet available for fans to hear.
Around this time, Paul McCartney on a bike with his guitar strapped to his back left his house in 20 Forthlin Road, a mile from the St. Peter's Garden, to meet his friend Ivan. He reached the site around half past four, met Ivan in the middle of the field, and they proceeded to the left edge of the stage. They caught John rendering the Del Viking's first hit Come Go with Me. John didn't know all the words but cleverly made up lines that fit the song.
For John, it was kind of a debut performance.  Besides Paul, two most important women in his life were present: His mom Julia who was proud of his son finally making it on stage and Aunt Mimi, completely surprised by what she saw. The Lennon biopic In His Life features this scene. Ten minutes before the church clock struck 5, the band closed its  first set.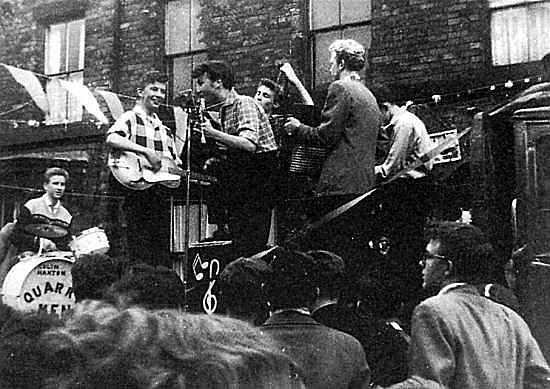 The Quarry Men were back on stage exactly an hour later, a little behind schedule. This time the audience was predominantly composed of teenagers and children. The older generation already decided to skip the concert. By 6:38 p.m., John thanked the audience and, with his band, left the stage and headed for their final shows that day, the Grand Dance, which was to take place at the Church Hall at 8 p.m. as indicated in the day's program. The band was already embedded at the back of the auditorium an hour before its final engagement when Ivan arrived with Paul.
No formal introductions took place. Ivan told the group who Paul was and introduced the band to Paul one by one. John seemed not interested.
"There is talk, but none between Lennon and McCartney. They keep their verbal distance from one another… Ivan becomes flummoxed by the frostiness between the two teens… He feels as if he arranged a meeting on quicksand," writes O'Donnell.
To break the impasse, Paul decided to let his guitar do the talking. He picked up his guitar, tuned it and hollered a non-stop rendition of Eddie Cochran's Twenty Flight Rock, Gene Vincent's Be-Bop-a-Lula and a medley of Little Richard's songs. John seemed not to mind at first, though right from the start, Paul caught his attention when he tuned his guitar, something the Quarry Men could not do at the time. His ego was pierced further when Paul showed the right chords and lyric to Twenty Flight Rock; John knew he met a "professional." Paul's mini-show lasted for just six minutes, according to O'Donnell.  But it left a lasting impression on the man who would be his musical soul mate for the next 13 years.
Paul soon left and John and his band proceeded with their final two-hour series of shows scheduled at 8 to 8:45, 9:15 to 10, and 10 to 11.
In many books, authors have it that a few days later, John, having sorted in his mind the potential issue of band leadership against the possibility of bringing the band to new heights with the enormously talented Paul in it, would pass a word through Ivan inviting the 15-year-old guitar virtuoso to join his band and the rest, so they say, is history.
And that "history" means a string of musical and cultural firsts: Beatlemania, an unparalleled worldwide phenomenon; over a billion discs in sales; over 20 No. 1 hit singles and 14 No. 1 albums; Sgt. Pepper's Lonely Hearts Club Band as a conceptual album; international live recording of All You Need Is Love through satellite hookup; stadium rock with concerts at Shea Stadium, Candlestick Park, etc.; studio experimentation as a fashion; conceptual videos like Strawberry Fields and I Am the Walrus predating contemporary videos; rooftop concert; bed-ins for peace. The list could go on and on. Feel free to add your own.
Not a simple feat for a band that recorded together in a span of only seven years. The Beatles' history could never be a mere footnote in the history of popular music. The group's collective output will always serve as benchmark for revolutionizing music that ushers in new eras and genres. That's the importance of the contribution of John Lennon and Paul McCartney who met half a century ago.
The historic event in Beatledom will, of course, not be missed.  In Liverpool right in the same garden, a commemorative musical event dubbed The Woolton Music Festival was held last July 8 featuring live appearances from The Quarry Men, Pete Wylie, The Merseybeatles and The Merseycats.