https://www.yahoo.com/music/beatles-ringo-starr-paul-mccartney-reunite-studio-081231809.html
Billboard February 20, 2017
It's not every day two Beatles come together. But it happened Sunday (Feb. 19) when the surviving members of the Fab Four, Paul McCartney and Ringo Starr, connected in the studio.
Ringo's publicist confirmed McCartney was there to contribute to Starr's forthcoming album. "Thanks for coming over and playing Great bass. I love you man peace and love," the Beatles drummer posted on Twitter with a picture of the pair at his home studio.
He posted a separate picture of himself, Paul and Joe Walsh with the comment, "And look out Joe W came out to play. What a day I'm having. Peace and love."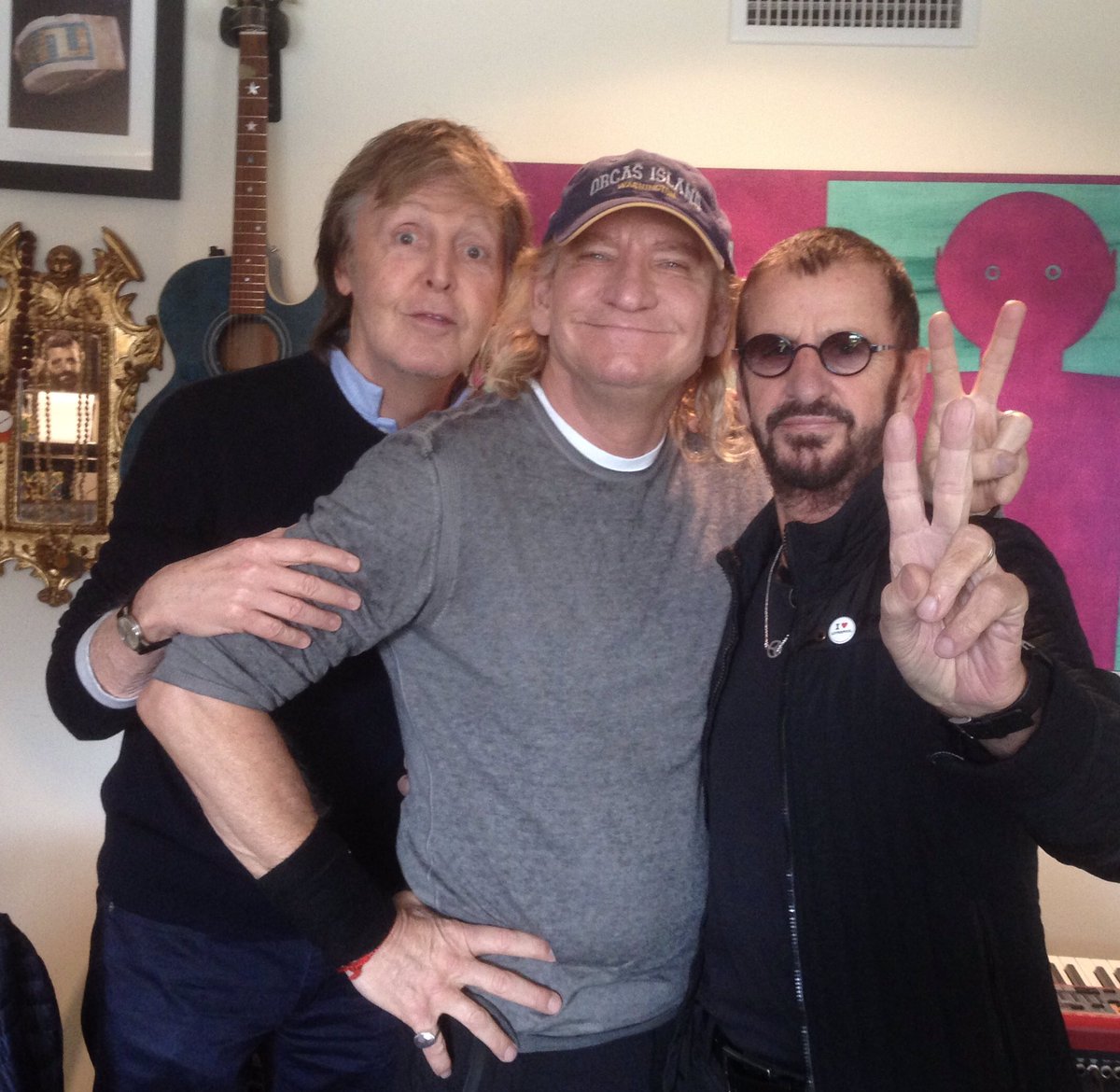 Bruce Sugar, who has engineered some of Ringo's recent albums, also posted a picture of himself and the Beatles' rhythm section on Facebook. "Magical day in the studio today with these two," he wrote.
Ringo discussed with Billboard last June his follow-up to 2015's Postcard From Paradise." The album is due early this year, but no release date has been announced.
McCartney and Starr last recorded together for the latter's Y Not album, released in 2010. McCartney played bass on the song "Peace Dream" and sang on "Walk With You."
"It was weird the way that ("Walk With You") happened," engineer Bruce Sugar told this writer. Ringo initially asked Paul to come by and play bass on "Peace Dream." The drummer then asked McCartney for one more, time permitting. McCartney listened to "Walk With You," and Sugar recalls his response: "I don't know if I want to play bass on it, but I think I could sing a part on it." The producer and engineer adds, "I don't think Ringo would have asked him to sing on the album. But he just kind of offered up. Me and Ringo just looked at each other and offered up the mic. And he just came up with that part, which was just brilliant. It made the whole song, really. So the song was done, but his vocals were after the song was done. It was great."